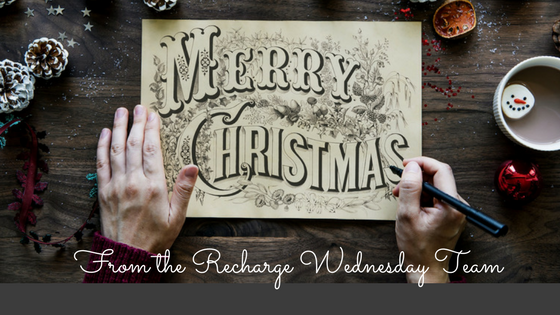 The Word became flesh and made his dwelling among us. We have seen his glory, the glory of the one and only Son, who came from the Father, full of grace and truth.
John 1:14
Dear Friends and fellow bloggers,
The Recharge Wednesday Writers' team has taken the last two weeks of the year off to rest and enjoy family, as we celebrate the birth of our Savior. Please visit us again on the first Wednesday of the New Year – January 3 to read Patricia's New Year's post and linkup with us.
We are so grateful that you take your time to stop by every Wednesday to read our posts and linkup your beautiful blog posts to this site. We pray you have a blessed Christmas and a New Year filled with God's bountiful blessings. May the celebration of the birth of our Savior fill your hearts with a renewed sense of purpose, and a steadfast determination to write and proclaim His immeasurable Grace and love for mankind throughout the New Year.
In His wonderful Love,
Patricia, Christy and Bethany
---