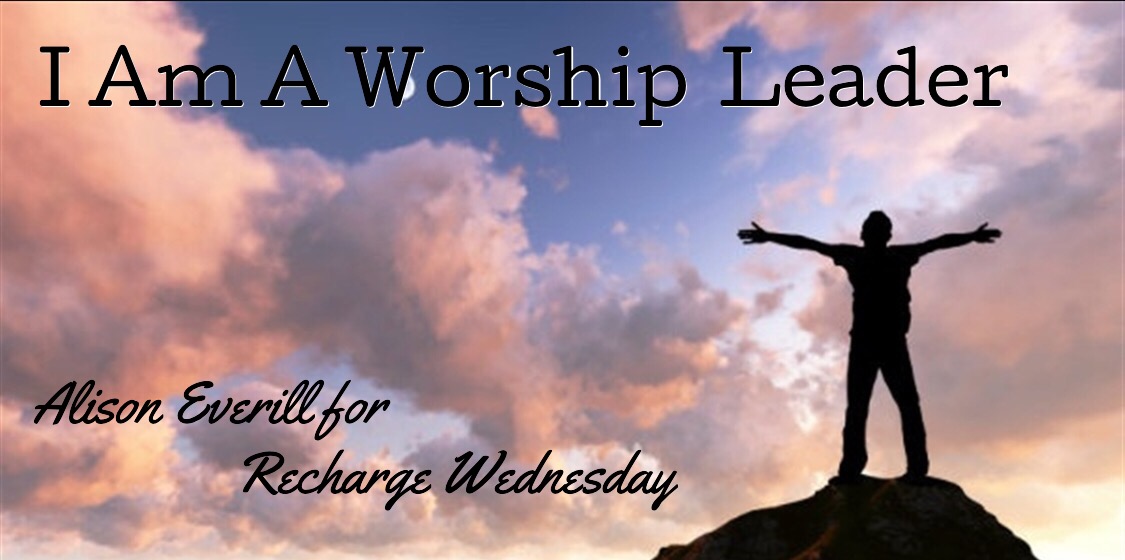 I am a "Worship Leader". I love what I do. But I am not naive enough to believe that my vocational title is accurate.
If "Worship Leader" is limited only to describe one who stands in front of a group of people and leads them in singing songs about our great God, then that's a very shallow definition. I delve into much deeper waters when I realize that worship is a way of life.  
Worship is simply me taking great pains to give God glory in every mundane and pinnacle action I perform. In the quietness and solitude of my own heart, in the way I treat my family and friends, in the way I love the lost around me…..all the way to the stage.  
I Corinthians 10:31 says,
"Whether, therefore, you eat or drink, or WHATEVER YOU DO,
do all to the GLORY of God."
So, if I'm a worship leader, so are you, because worship is simply obedience to Christ in every way possible.
Romans 12:1-2 gives a beautiful parallel from the Old Testament idea of worship and translates it to what worship looks like for the Christian who is now indwelt with the Holy Spirit.  There is so much gorgeous imagery here….words like "present, sacrifice, holy, acceptable…."
"I appeal to you therefore, brothers, by the mercies of God, to present your bodies as a living sacrifice, holy and acceptable to God, which is your spiritual worship."
We no longer offer sacrifices in the same way the Old Testament saints did.  Rather, we are asked by Jesus to offer our very lives as a sacrifice of worship.  Not so we can earn His favor in any way, but as a response of love and gratitude from our overwhelmed and sanctified hearts toward our great God who has saved and made us His children and heirs!
What does this look like?  This means that EVERY action you take in your day to day activities should be filtered through the grid of "How can I glorify Jesus in this?"  From loading the dishwasher, to helping your babies with their homework, to encouraging your hubs, to time spent alone with Jesus, all the way to the outward acts of worship that everyone actually sees.
And here's an encouraging tidbit.  Just think of how much value this puts on even the mundane activities of life!  So sweet and freeing is the thought that I don't really have to DO anything noteworthy or dazzling to get the Lord's attention.  He notices every little thing I do in His honor! The "boring" day in and day out activities I do in His Name reach His very throne room and magnify Him in some way. I don't really get it it, but there you have it! Isn't it crazy to think that every action of one's life has the potential to bring glory to God? Whew! That'll change the way you do things! At least it should.
And, as Christians, it will go a lot easier for us if we just let go and realize that we don't belong to ourselves and our own desires anymore.  We belong to Jesus because He pulled out His holy wallet and paid for us.  He saw us there on the slave block. Naked, skinny, and diseased with sin.  Altogether undesirable with absolutely nothing to offer. And He said,  "I love her and I will pay for her freedom. I love him, and I will do what it takes to make him mine." And MAN!  Were we ever expensive!  
Here's the reality of what it took to purchase us:
"Knowing that you were ransomed from the futile ways inherited from your forefathers, not with perishable things such as sliver or gold, but with the precious blood of Christ, like that of a lamb without blemish or spot."
I Peter 1:18-19
And here's the reality of the response that that we should have in light of that knowledge: 
"You have been bought with a price: therefore glorify God in your body."

I Corinthians 6:20
When I really come face to face with this truth, I always cry out in my heart…..
"How dare I live for myself!  How dare I consume anything on my own selfish desires! How dare I waste the life and time Jesus has given me!  I don't even own myself, I was purchased with the very blood of Christ.  Act like it, Alison.
 Let every borrowed breath be for His glory alone!
I wrote a song a few years ago called "The Altar." It reflects a little of how I feel about myself and worship.  Here's the chorus:
Lord, I offer up my life
A living sacrifice
On the altar
I lay it down
I surrender nothing less
Than every borrowed breath
On the altar
I'm lost and found
This is worship. And why not, sweet Christian friend?  Nothing in the whole universe, not even angels, can worship Jesus like we can.  Why?  Because we are the only ones who know what it's like to be redeemed.  How in the world can we hold back?
You are always in a temple.. Always worship.
---
LINKUP PARTY at Soaring with Him!
Share your Blog with our audience below:
1. Add your Link.
2. Visit the blogger before or after and encourage them with a comment.
3. Share on social media. Click below to share on Twitter that you are joining us!
LINKUP PARTY with @AlisonEverill and @PatHolbrook - We are all worship leaders. JOIN US?
Click To Tweet