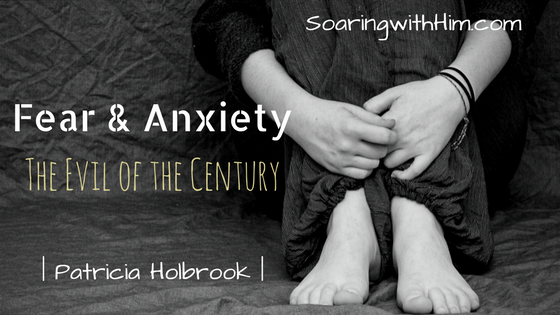 Fear and anxiety. A deadly combination that sweeps our modern world these days. My teenage daughter shared her heart in a recent conversation, where she talked about some of the fears that often cross her mind. Some of them invade her thoughts in the middle of the night, keeping her awake for hours on end.
I remember having the same crippling, often irrational fears for many years: fear of dying. Fear of robbers entering my house. Fear that my parents would die. The list went on and on. As fear settles in our hearts, anxiety takes over, and many of us are robbed of a peaceful, abundant life.
The harmful effects of anxiety are well known to the medical community. In the U.S. alone, 40 million adults suffer from anxiety disorders. When our bodies are under stress, our nervous system responds with a reaction known as "fight or flight."
In the U.S. alone, 40 million adults suffer from anxiety disorders
Click To Tweet
There are times when this physiological reaction is a healthy defense mechanism, such as when a person feels threatened by imminent danger. This reaction tells us when to move out of an unsafe part of town, or it incites us to run when spotting a poisonous snake on the ground. We were born with this important trigger to help protect us from threats.
However, the fight or flight response was never intended to be an ongoing reaction to our problems. Indeed, chronic worry and emotional stress breed terrible health problems. Continuous fight or flight responses cause our body's nervous system to release stress hormones such as cortisol, which can boost blood sugar levels and triglycerides. These hormones cause harmful reactions such as dizziness, increased heartbeat, fatigue, insomnia and headaches.
Needless to say, the long-term effects can be devastating, including suppression of the immune system, digestive disorders and heart disease. In other words, it's not stress that's making us ill. It's our response to stress that is killing us.
I wish I could say that worry and anxiety stopped at the door of our sanctuaries.
But we all know that's not true. If anything, many people of faith are fretting more than ever. Entire websites are dedicated to disaster preparedness and to tracking events around the globe linked to end-times prophecy. As a Christian, I have studied these prophecies and believe them. But I don't think this is a time for panic, worrying or fear.
Rather, I'm reminded that one of the most popular commands found in the Bible is "Fear not." It's found in almost every one of the books of both the Old and New Testament.
Fear Not. I'll never leave you. Fear Not. I believe these words. Through my hardest trials I've experienced them to be true. I know it won't be different now.
There is no question that there are many concerning issues in our world. We cannot pretend that there is not turmoil in our country, and that certain preoccupations that occupy our minds are not valid. We cannot dig our heads in the sand and pretend that nothing bad will ever happen. We are not immune from terrible harm or unspeakable evil. We've seen it. We know it. We should certainly be vigilant, but we should not allow our spirits to be on constant fight or flight mode. Either we believe that God is in control … or we don't.
I'm speaking with the authority of a recovering worrier. I've experienced firsthand the bitter effects of constant fear and anxiety. I don't want to tread that ground ever again. I certainly know that problems, tragedies and disappointments are inevitable. But worry is a choice. Therefore, I deliberately choose to turn off the fight or flight mode for things that I cannot control. I choose to turn to God instead — for direction, protection and peace. I choose to surrender my concerns to God, and trust him for the outcome.
it's not stress that's making us ill. It's our response to stress that is killing us.
Click To Tweet
---
This article was published on Patricia's column for The Atlanta Journal Constitution on Saturday – October 14, 2017.