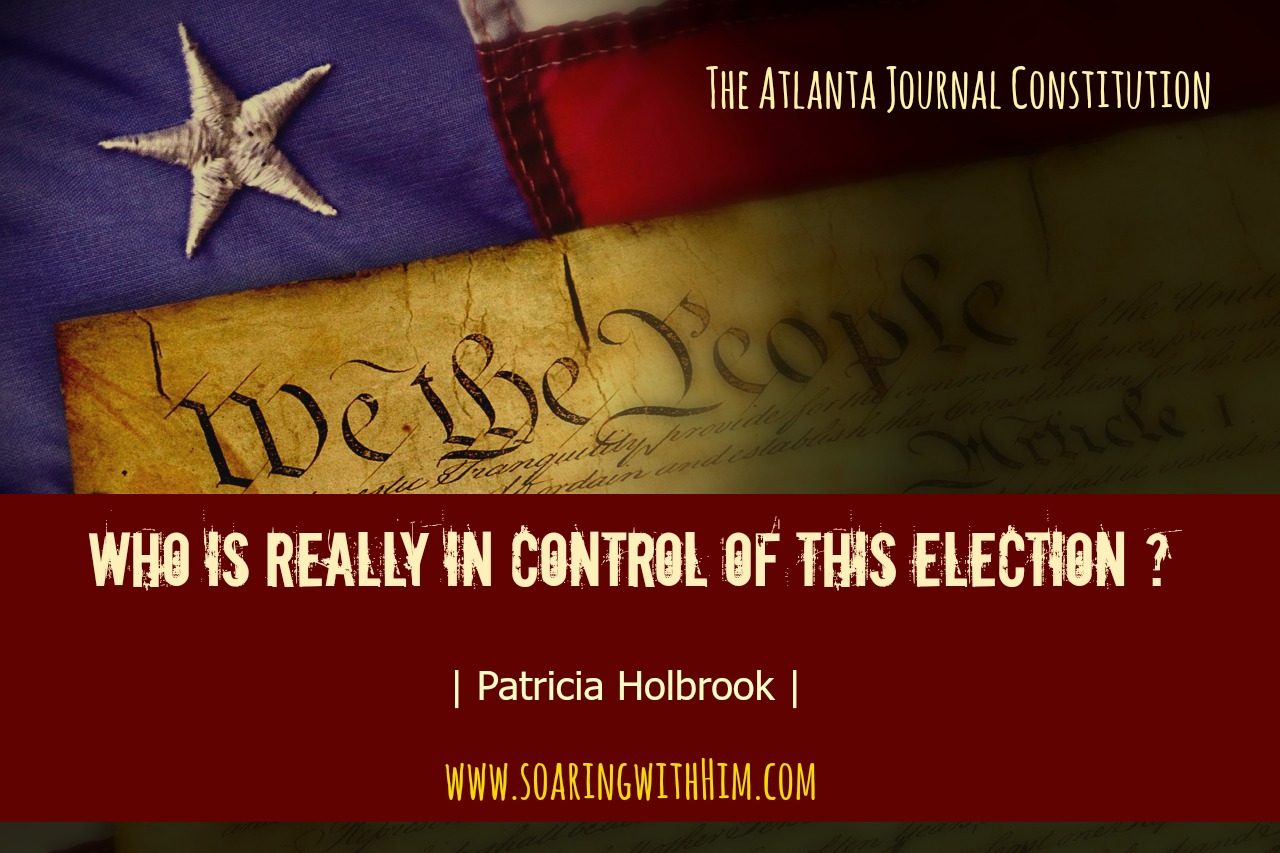 Fear and pessimism seem to be permeating the Presidential Election this year.
As a matter of fact, I was sitting at church this past Sunday, listening to some of the conversations, when an amusing thought crossed my mind. I told my husband later that afternoon: "If we could breed Chicken Little and Eeyore, we would come up with an offspring that resembles the demeanor of many believers who fill our church pews every Sunday."
"The sky is falling and everything is really, really bad." That would be Chicken-Eeyore's motto.
I believe it would do every American good if we put ourselves in the shoes of the many Haitian families which, in the aftermath of hurricane Matthew, are mourning the loss of their loved ones, while picking up the pieces of their destroyed cities once again.
Destruction. Corruption. Doom. They know it firsthand. And so do most of the third-world country citizens around the globe. As for us, we who live in these United States do not know what it truly means to watch the sky fall. At least not yet.
There is no question we have enjoyed a more prosperous economy in years past. We cannot deny that our society's values are indeed deteriorating. Yes, There's still inexcusable racial and social division in our midst today. But ask the millions of people who dream of immigrating to America, and they will say: "No, in spite of it all, America's sky is not falling."
Anyone who reads my column can easily draw the conclusion that I am, essentially, a conservative. I happen to be one of those voters who makes a personal choice to support candidates whose agenda somewhat lineup with my Christian values. I try to vote for men and women who will defend our constitution, support our troops and fight to preserve life and family. On that stand, I have watched my candidates succeed, but also disappoint. I have witnessed men whom I trusted would make a positive impact in our congress and senate, change their ideologies to follow power and money. I have been pleased, nonetheless also highly disenchanted with my candidates.
That's why I have never, nor will I ever, look for a savior in Washington. That would be ludicrous. And a waste of energy and time.
I have never, nor will I ever, look for a savior in Washington. That would be ludicrous. And a waste of energy and time
Click To Tweet
I agree with many of my friends who believe that our choices are less than ideal this year. I have actually heard several people saying that they are considering not voting on November 8th. Permeating their decision is the fact that both candidates have many character issues, which I do not try to dismiss, by any means. But on the other hand, we cannot close our eyes to the fact that, among other crucial decisions, the next president is likely to nominate as many as four new Supreme Court Justices, who can completely shift the shape of our laws and Constitution. That should be enough reason for every American to get up and vote.
Regardless of the outcome of the upcoming elections, I invite you to remember King Solomon's words regarding any leader who has ever been in power: "The king's heart is like channels of water in the hand of the Lord; he turns it wherever he wishes."
If we believe that is true, we must then have no reason to fear the outcome of the next election. Simply because,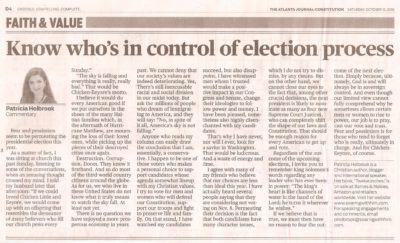 ultimately, God is and will always be in sovereign control. And even though our limited view cannot fully comprehend why he sometimes allows certain men or women to rise to power, our job is to pray, cast our vote and trust. Fear and pessimism is for those who tend to forget who is really, ultimately in charge. And for Chicken-Eeore, of course.
This article was published in Patricia's column for the Atlanta Journal Constitution's Faith & Value Section on Saturday, October 15
Patricia Holbrook is a Christian author, blogger and International speaker. Her Book Twelve Inches is on sale at Barnes & Nobles, Amazon and retailers worldwide. Visit her website www.soaringwithHim.com. For speaking engagements and comments, email pholbrook@soaringwithHim.com.