I am not a stranger to legal courts. A daughter of a defense attorney in Brazil, I grew up watching dad buried in countless books and evidence documents, carefully studying each case with zeal in order to prepare for his defense. For many years I witnessed him turn down clients whom he could not defend in clear conscience.
While watching his earnest quest for justice and passion for truth, my heart was shaped at a very young age to carefully hear each side of an argument in its entirety, before making assumptions or passing judgment.
That's one of the reasons I felt compelled to reach out to pastor Andy Stanley after reading several blogs filled with outrage in response to his recent series "Who Needs God."
One of these bloggers' most disturbing claims is, in essence, that Andy Stanley affirms that the Bible is no longer the inerrant word of God.
When I read those statements, like many other Christian believers, I became surprised and quite shocked. However, remembering my dad's life lessons on fair judgment, and contrary to many of the angry bloggers I read, I decided to follow "trial protocol." Meaning, I actually sat down and carefully watched the entire six-message series before drawing any final conclusions. The series ended Sept. 18, but truth be told, most of the raging articles were written before the series even reached its midpoint. After watching the last message, I went one step further and reached out to Andy himself, who gladly agreed to give me an interview.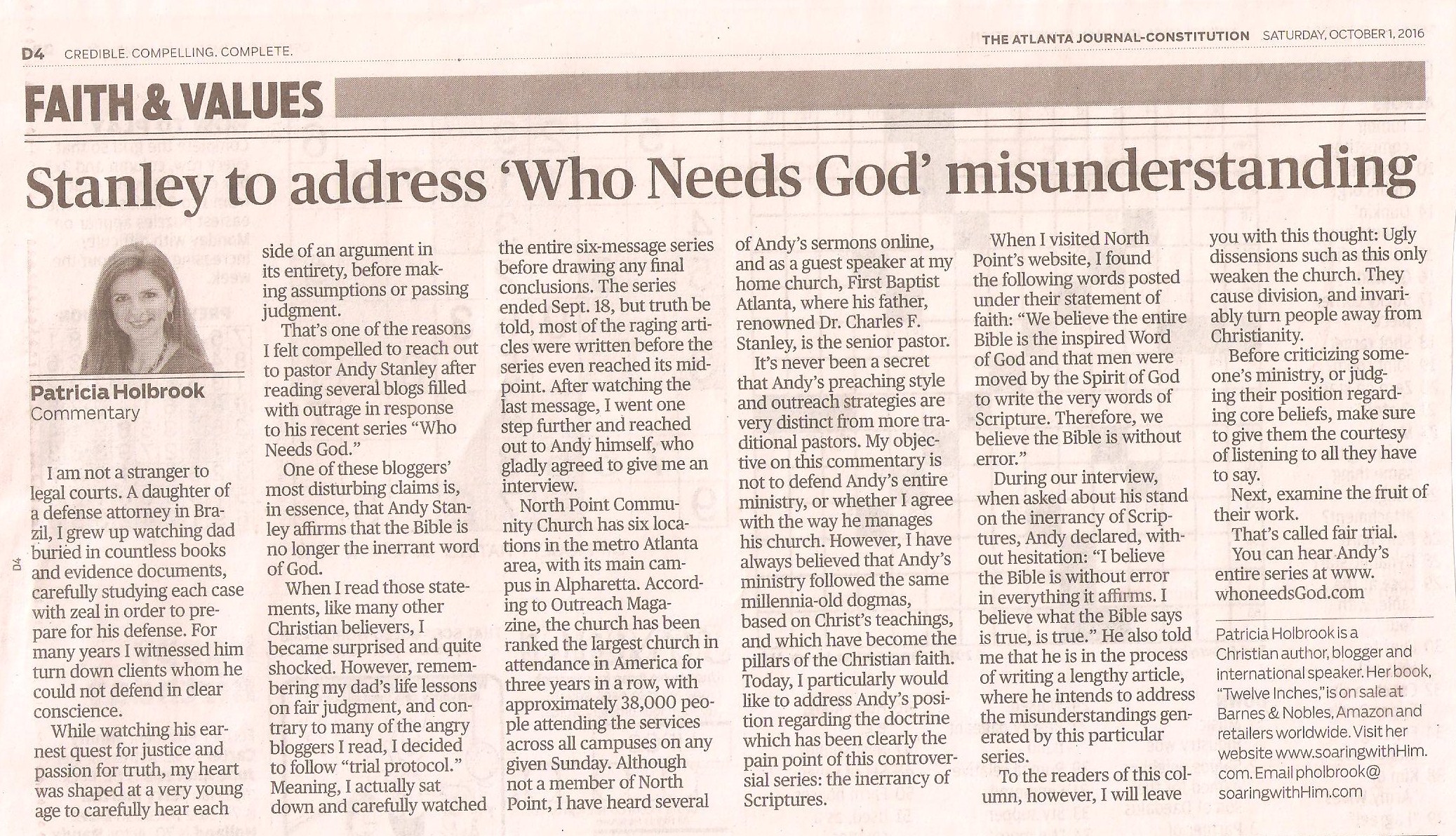 North Point Community Church has six locations in the metro Atlanta area, with its main campus in Alpharetta. According to Outreach Magazine, the church has been ranked the largest church in attendance in America for three years in a row, with approximately 38,000 people attending the services across all campuses on any given Sunday. Although not a member of North Point, I have heard several of Andy's sermons online, and as a guest speaker at my home church, First Baptist Atlanta, where his father, renowned Dr. Charles F. Stanley, is the senior pastor.
It's never been a secret that Andy's preaching style and outreach strategies are very distinct from more traditional pastors. My objective on this commentary is not to defend Andy's entire ministry, or whether I agree with the way he manages his church. However, I have always believed that Andy's ministry followed the same millennia-old dogmas, based on Christ's teachings, and which have become the pillars of the Christian faith. Today, I particularly would like to address Andy's position regarding the doctrine which has been clearly the pain point of this controversial series: the inerrancy of Scriptures.
When I visited North Point's website, I found the following words posted under their statement of faith: "We believe the entire Bible is the inspired Word of God and that men were moved by the Spirit of God to write the very words of Scripture. Therefore, we believe the Bible is without error."
During our interview, when asked about his stand on the inerrancy of Scriptures, Andy declared, without hesitation: "I believe the Bible is without error in everything it affirms. I believe what the Bible says is true, is true." He also told me that he is in the process of writing a lengthy article, where he intends to address the misunderstandings generated by this particular series.
Read about @PatHolbrook Interview with @AndyStanley about WHO NEEDS GOD series #AndyStanley
Click To Tweet
To the readers of this column, however, I will leave you with this thought: Ugly dissensions such as this only weaken the church. They cause division, and invariably turn people away from Christianity. Before criticizing someone's ministry, or judging their position regarding core beliefs, make sure to give them the courtesy of listening to all they have to say. Next, examine the fruit of their work. That's called fair trial.
You can hear Andy's entire series at www.whoneedsGod.co


Article published in Patricia's column for the Atlanta Journal Constitution's Faith & Value Section on Saturday, October 1
. Patricia is a Christian author, blogger and International speaker. Her Book Twelve Inches is on sale at Barnes & Nobles, Amazon and retailers worldwide. Visit her website www.soaringwithHim.com. For speaking engagements and comments, email pholbrook@soaringwithHim.com