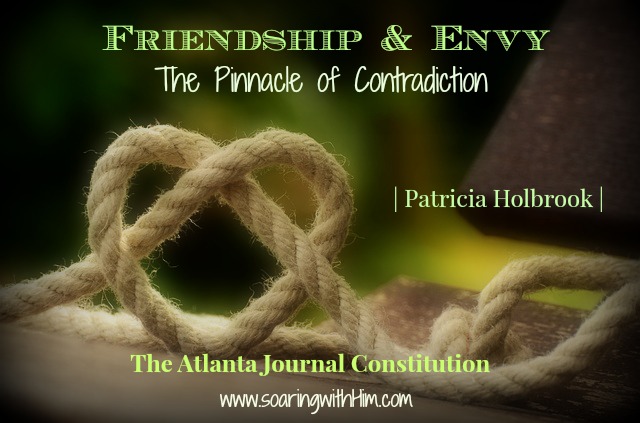 It seems as if my daughters' social experiences this year have offered ample opportunities to learn about various facets of friendship. It's been a blessing sharing my experience and struggles with them, and watch as they make wise decisions, while learning key principles one must know in order to better evaluate a person's character.
Several weeks ago, I wrote a column about how true friendships are tested in times of trouble. Later that week I ran across an amusing quote from an unknown author, which reminded me of the message conveyed in my article. The quote said: "Do you want to find out how many friends you have? Throw a party. Now if you want to find out how many true friends you have, simply get sick."
It is unquestionably true that faithful friends reach out to help us during times of great sorrow and loss. But today I want to discuss another gauge by which one can measure the sincerity of their friendships.
I recently watched an online video by professor Dr. Leandro Karnal, where he addressed the test of a true friendship from a different perspective. He said that if one needs to find out who their true friends are, they should not disclose their burdens. "After all," he said, "most human beings are able to offer empathy for the sick and hurting."
He then shared a comical story of how he supposedly invited some of his best friends for dinner, where he shared the wonderful things that were happening in his life. His professional success, financial abundance, and the blessings of a great marriage and children were among the subjects he bluntly bragged about. While sharing the good news, he carefully watched his friends' reactions.
According to his testimony, several friends seemed genuinely happy while listening to his story. But others didn't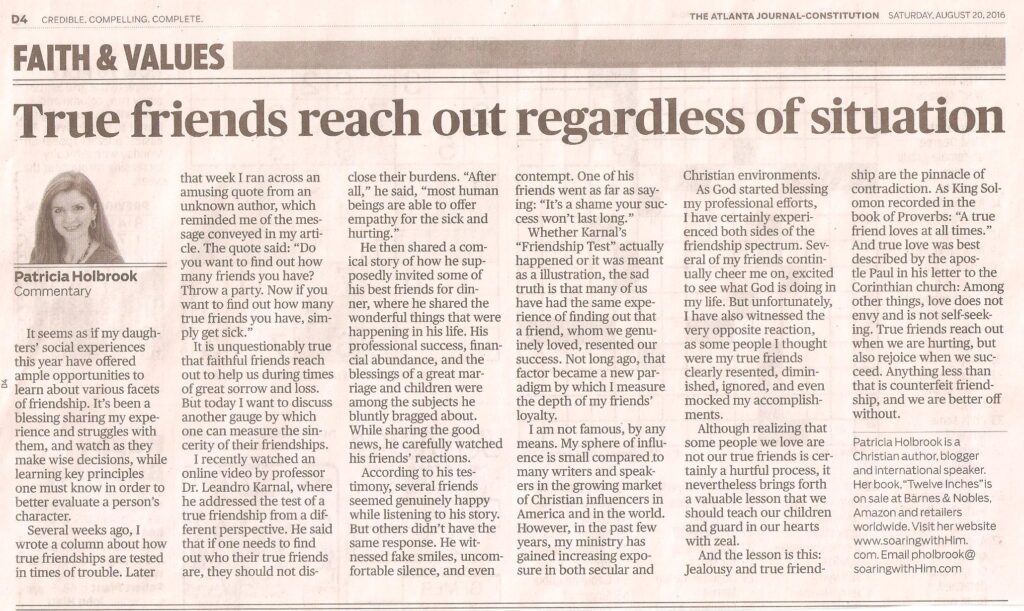 have the same response. He witnessed fake smiles, uncomfortable silence, and even contempt. One of his friends went as far as saying: "It's a shame your success won't last long."
Whether Karnal's "Friendship Test" actually happened or it was meant as a illustration, the sad truth is that many of us have had the same experience of finding out that a friend, whom we genuinely loved, resented our success. Not long ago, that factor became a new paradigm by which I measure the depth of my friends' loyalty.
I am not famous, by any means. My sphere of influence is small compared to many writers and speakers in the growing market of Christian influencers in America and in the world. However, in the past few years, my ministry has gained increasing exposure in both secular and Christian environments.
As God started blessing my professional efforts, I have certainly experienced both sides of the friendship spectrum. Several of my friends continually cheer me on, excited to see what God is doing in my life. But unfortunately, I have also witnessed the very opposite reaction, as some people I thought were my true friends clearly resented, diminished, ignored, and even mocked my accomplishments.
Although realizing that some people we love are not our true friends is certainly a hurtful process, it nevertheless brings forth a valuable lesson that we should teach our children and guard in our hearts with zeal.
And the lesson is this: Jealousy and true friendship are the pinnacle of contradiction. As King Solomon recorded in the book of Proverbs: "A true friend loves at all times." And true love was best described by the apostle Paul in his letter to the Corinthian church: Among other things, love does not envy and is not self-seeking. True friends reach out when we are hurting, but also rejoice when we succeed. Anything less than that is counterfeit friendship, and we are better off without.
Jealousy and true friendship are the pinnacle of contradiction.
Click To Tweet
Patricia Holbrook is a Christian author, blogger and International speaker. Her Book Twelve Inches is on sale at Barnes & Nobles, Amazon and retailers worldwide. Visit her website www.soaringwithHim.com. Email pholbrook@soaringwithHim.com