I am currently on vacation, visiting family and friends and enjoying a much needed rest. I reached out to a couple of my writer friends who have agreed to guest post for a couple of the weeks during my sabbatical. Meet Lori Macmath and get ready to be BLESSED by this beautiful post. Several months ago Lori invited me to become a contributor at Internet Cafe Devotions. As we exchanged emails and stories, I felt an instant connection with this authentic, down-to-earth Jesus girl. Enjoy her devotional and make sure to visit her ministry website. Toodeloo!
Patricia
---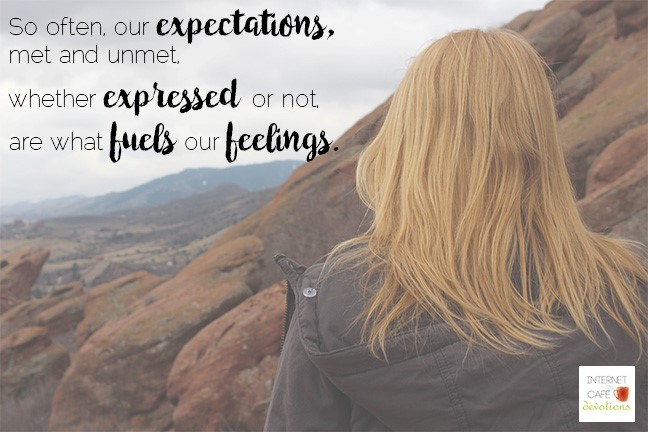 un·der·whelm 
fail to impress or make a positive impact on (someone); disappoint.
Yep. Underwhelmed.
In a world where everyone seems overwhelmed, I've had the humble privilege of being in the center of several conversations recently where the person sitting across from me, or on the other end of the phone, transparently admitted, usually with a pause or heavy sigh, that they were simply underwhelmed by God and that ironically led them to feel completely overwhelmed.
Underwhelmed by life.
Underwhelmed by God and what He is doing.
Underwhelmed by God's timing.
Underwhelmed by current circumstances and situations.
Underwhelmed by what can see going forward.
Underwhelmed by the monotony of life.
Simply stated, underwhelmed.
Let me be clear, these are people who LOVE Jesus. These are women who, for the most part are mature, wise women who are, by all accounts, living and walking out in obedience all that God has for them. They aren't turning from God, but in the moment, in the midst of the circumstances of life, they are underwhelmed. It's all part of the beautiful journey of Jesus when together, we can come in trusted relationship to share our life struggles with each other.
God used these conversations and circumstances, as He often does, to have me verbally speak the very TRUTH I need to hear myself. I hear myself sharing and preaching the very things I need to hear. Well played God, well played.
I too have been underwhelmed. Most recently when my unspoken expectations were not met by God and I was left standing completely and utterly disappointed. You see we recently relocated halfway across the country. God was so clearly in all of it, in such clear and tangible ways. There was no mistaking it. As we often do, I conjured up what this "next thing" would look like. I had MY expectations. Six months in, many of MY expectations are unmet. I wrestled with it, tried to rationalize it, and eventually I had to be brought to the place of surrender.  It took some real honest conversations with the Lord, some VERY honest and raw conversations with HIM to come face to face with the fact that I did indeed have expectations that were unmet by God, that led me to a place of discontent and feeling completely underwhelmed. Drawing in, I painfully discovered that it was my expectation of God that led me to this place. This place where I wasn't trusting Him.
Unmet expectations. That's what typically leads us to the place of feeling underwhelmed. So often, our expectations, met and unmet, whether expressed or not, are what fuels our feelings.
Aren't we supposed to be expectant in what God is doing and will do?
Expectant. Yes. Absolutely. Completely.
Our own expectations replacing God's timing and ways.  No. Never.
I know that we do not go this walk alone. There are countless sojourners who have gone before us that we can look to in times like this. It's in these places that God loves to use these people to speak into our lives today. As I found myself underwhelmed, I turned to the pages of Genesis and met up with a woman named Sarah and what do you know, the Lord met me in her circumstance.
 So Abraham ran back to the tent and said to Sarah, "Hurry! Get three large measures of your best flour, knead it into dough, and bake some bread."  Then Abraham ran out to the herd and chose a tender calf and gave it to his servant, who quickly prepared it.  When the food was ready, Abraham took some yogurt and milk and the roasted meat, and he served it to the men. As they ate, Abraham waited on them in the shade of the trees.
 "Where is Sarah, your wife?" the visitors asked.
"She's inside the tent," Abraham replied.
Then one of them said, "I will return to you about this time next year, and your wife, Sarah, will have a son!"
Sarah was listening to this conversation from the tent.  Abraham and Sarah were both very old by this time, and Sarah was long past the age of having children.  So she laughed silently to herself and said, "How could a worn-out woman like me enjoy such pleasure, especially when my master—my husband—is also so old?"
 Then the Lord said to Abraham, "Why did Sarah laugh? Why did she say, 'Can an old woman like me have a baby?'  Is anything too hard for the Lord? I will return about this time next year, and Sarah will have a son."
 Sarah was afraid, so she denied it, saying, "I didn't laugh."
But the Lord said, "No, you did laugh."
Genesis 18:6-15
I get Sarah. (Called Sarai, at the time.)
Sarah packed up her life and trusted the Lord. That's no easy feat in our modern world, I imagine that back in the day, it was much, much harder. She left family. She left friends. She gave up her life as she knew it, for the unknown. She would never return to this place she called home.  She moved to this new land with the promises in her heart. Promises of blessings, protection and DESCENDANTS. With that, came her own expectations of when and how those promises would come to fruition. (Genesis 12), especially the DESCENDANT part.
These are the times when I wish I could sit face to face with these saints and probe a bit deeper. I imagine though, God in His wisdom knew we didn't need to read those emotions on the pages, because we feel them so well inside ourselves. Yes, thousands of years pass and yet our human response remains the same. Sarah had to be underwhelmed. Underwhelmed with God and His timing. Underwhelmed to the point that she took control of the unmet expectations herself. (Genesis 16) God continued to promise. When the time came for things to work out God's way, not Sarah's way, her response was not only to question it, but to laugh. You know the laugh; I know the laugh. The "yeah, right laugh." The laugh of a gal who has been underwhelmed.
Sarah had put aside being EXPECTANT and picked up her own EXPECTATIONS.
I can relate.
Can you?
Do you KNOW the promises of God and find yourself underwhelmed with the results? Have you traded in EXPECTANT for EXPECTATIONS?
God promises.
God provides.
God loves relentlessly
and
God's timing will always prevail.
As we grow in this relationship; as we have honest conversations with Jesus about where we are, we allow God to expose the places where we hope OUR EXPECTATIONS trump HIS timing. If you're standing in a place today where you feel underwhelmed, perhaps to the point of being overwhelmed and tempted to take matters into your own hands; pause. Pause and lean in. Pause and remember. Pause and converse, even loudly, if you must with Jesus. Pause and pray for all you need, to lay down YOUR EXPECTATIONS and remain EXPECTANT. It will shift your perspective and you'll be overwhelmed in the very best way possible.
Overwhelmed with contentment and peace.
•••••••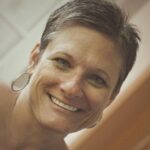 Lori's daily mantra includes praying, "I will take it Lord, ALL you have to give," and a commitment to live out Colossians 3:17 daily. It's her prayer that the energy that fills her spirit be with her till her dying breath! She recently traded the sauna of the Deep South, for the snow of Chicago. After 18 years in Atlanta, Lori has bought herself a coat and some winter boots and is ready for the NEXT adventure. She navigates this road with her husband of 25 years and they have 3 children, ranging in age from 16 – 21. She seeks daily to be creative and use the gifts the Lord has given her. With the heart of an artist and a spirit to live intentionally missional, Lori strives daily to see Him in all that surrounds her. Encouraging women on their daily walk with the Lord is her passion! She has recently stepped out into NEW territory with her husband and some very dedicated disciples to launch a mission business. She would be HONORED if you'd visit Hope Products International (hope-products.com) where providing HOPE to the world through fair trade and sustainable products. Lori has served as Leadership Adventure Coordinator, a mid week Bible club for upper elementary students in a local public elementary school as well as being on staff at her church. She is excited in this season to watch the Lord unfold HIS plans for the next step on the journey. Helping others see the transforming power of Jesus is at the heart of all she does. She LOVES playing graphically and encouraging others through visual arts. It truly inspires her and fills her spirit. Lori can occasionally be found at her own personal website, "All You Have to Give."