About three years ago, God put in my heart the desire to put together a conference.
A day in which a group of Jesus' girls could get together and share their stories.
A day of digging a little deeper… loving a little wider.
A toolbox-kind of day.
Here's the idea behind the SHE SOARS CONFERENCE:
We go to church, listen to our pastors and Sunday School teachers. We listen to our favorite preachers on the radio, read our Bibles and our favorite blogs throughout the week.
But when life happens….
And you lose your job…
Or your marriage is falling apart…
When you are told you have cancer… or someone you love is affected by this dreadful disease…
When you exhaust your finances and the job is still to come…
Or your children, who were raised to love Jesus, turn away from the church… from Him…and even from you…
When your loved one dies… after a long battle… or all of a sudden.
When these and other circumstances happen to the believer, we are often left with an empty place in our hearts, anxiety, depression… and the question that lingers:
How do I keep on soaring with Jesus through it all?
God has put together an amazing group of teachers for the first SHE SOARS CONFERENCE.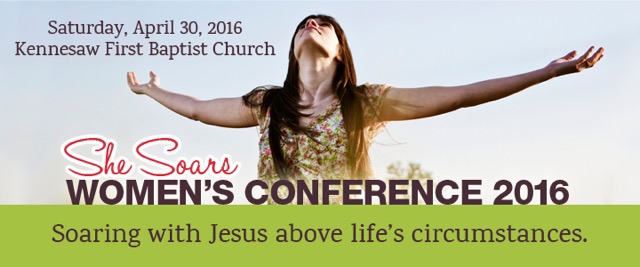 They have walked through the valleys of cancer, loneliness, financial crisis, unemployment, infertility and chronicle illnesses.
They have suffered. They have known anxiety… and fear… and doubt.
Some of them are still walking through those valleys.
But GOD.
They realized He never meant any of these trials for their harm… Rather, they understand that He designed each one of the trials to shape them into the women He designed them to be.
In the process, He filled their toolboxes with just the right trinkets and spiritual tools to keep them encouraged… and encouraging others through it all!
And so they learned to laugh and be joyful. In. Spite. Of.
Because they have learned to press on to the place where JESUS becomes the wind beneath their wings.
And they choose to trust wherever He leads them.
Day.by.day… Step.by.step…
In the light… and in the darkness of their circumstances.
And they want to share their stories with you.
Meet Alison Everill, Lisa Ryan, Stephanie Wilkins,  Sandra Onal and Yvonne Conte.

Beautiful Eagles for Christ.
I call them friends.
And warriors.
And I invite you to meet them as well.
Join us at our upcoming conference on April 30th at Kennesaw First Baptist Church.
We plan to spend the day encouraging you… and giving you practical tools to help you Soar above Life's circumstances with Jesus.
I can't wait to see you!
PS: Don't delay! Early bird registration ends March 15th!
In His matchless love,