SHE SOARS WOMEN'S CONFERENCE 2016
THEME: Soaring with Jesus Above Life's Circumstances
THEME VERSE: "The thief comes only to steal and kill and destroy; I came that they may have life, and have it abundantly."
Financial crisis… marital problems… fear… anxieties… cancer… loss of a loved one… The world and life's circumstances often steal our joy as Christians. One of Jesus' most wonderful promises was: "I came that they may have life, and have it abundantly. (John 10:10)" But when life happens, how do you keep living in victory? Our ministry's passion is to empower and equip women to live in righteousness and victory, regardless of their circumstances. We have planned a day filled with inspired music and teaching from the Word of God, with the objective to help you find and LIVE the abundant life that Jesus died to give you. We will spend time exalting the Name of Jesus in worship and teachings, equipping you with practical tools that will help you keep Soaring with Him when life threatens to drag you down.
The Facility
Kennesaw First Baptist Church
2958 North Main Street
Kennesaw, Georgia 30144
Website: http://www.kfbc.org/
Telephone number for info about the conference: 404-432-0497
Email: Shesoars@soaringwithHim.com
The Event
Saturday, April 30th: Registration opens at 8:00.
8:30 – 9:00
9:00 – 10:1510:30 – 11:30
11:30 – 12:45
12:45 – 1:45
2:00 – 2:45
2:45 – 3:30
Registration with coffee/juice
General Session 1 (Door prizes, Worship & Speaker Patricia Holbrook)Workshop (
choose from 1, 2, or 3
)
Lunch/shop
Workshop (
choose from 1, 2, or 3
)
General Session 2 (Door prizes, Worship & Speaker Yvonne Conte)
Closing Session (Speaker Patricia Holbrook)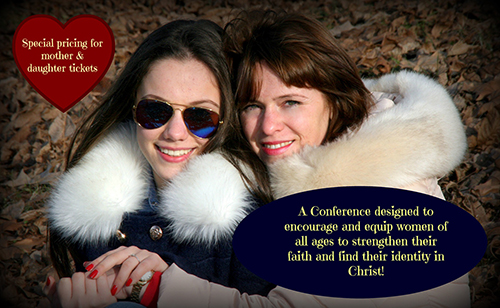 Price
ALL PRICES INCLUDE LUNCH
Individual tickets are $30 (Early Bird) through April 1st. After April 1st, they are $35 each. Mother & Daughter Combo Tickets can be purchased for $50 ($20+ each additional daughter) before March 15, $55 after March 15.
Tickets purchased at the door the day of the conference will be $40.
If you have a group of 10 or more, please contact us for group discount.
Price includes: All conference sessions and lunch. No childcare provided.
Vendors
Vendor tables are available for $50. If you are interested in purchasing a space for your business or ministry, please use the form here.
Vendors confirmed: Mary Kay | Tranquill Moments | Rodan and Fields | Premier Jewelry | Youngevity | Jewelry by MichelleC | Collectables |  Thirty One | Tastefully Simple 
Scholarships
We are offering a limited number of scholarships for those who would like to attend the She Soars Conference but cannot afford to do so. If you would like to apply for a scholarship, please use the form here.
Click here to Register!