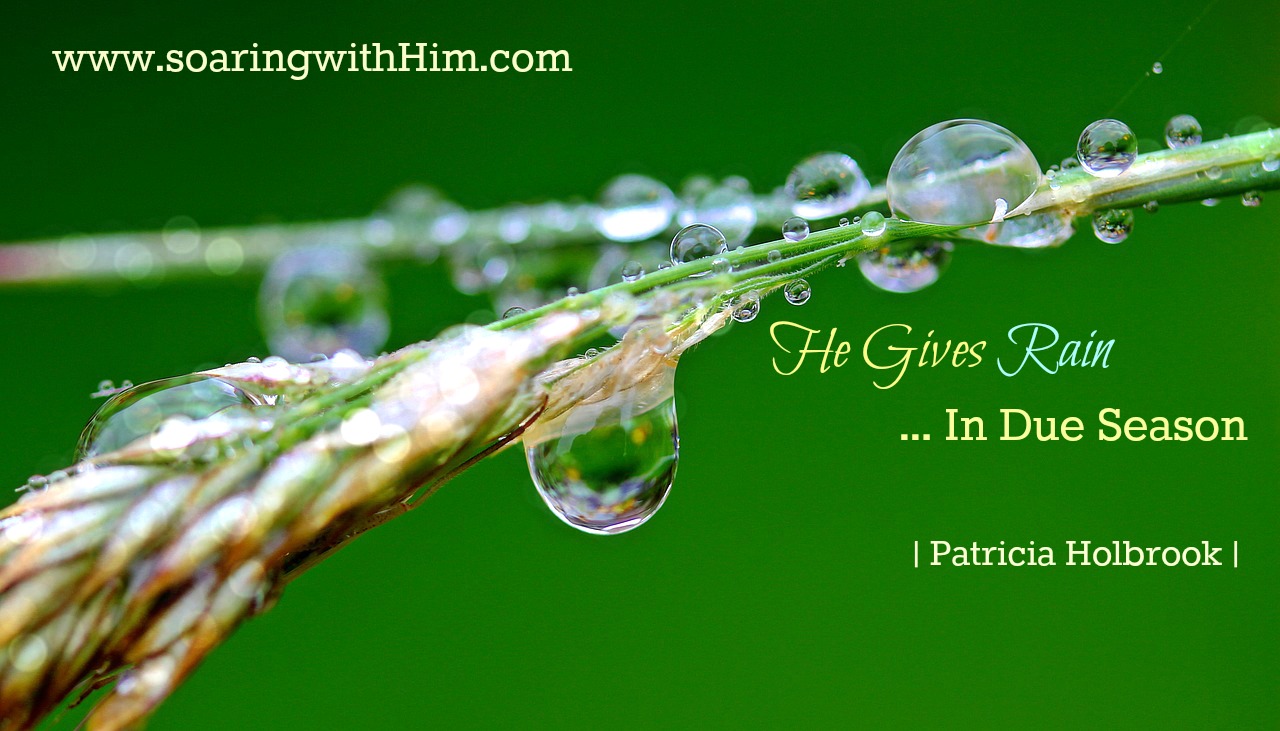 If you walk in My statutes and keep My commandments so as to carry them out, then I shall give you rains in their season, so that the land will yield its produce and the trees of the field will bear their fruit.  Indeed, your threshing will last for you until grape gathering, and grape gathering will last until sowing time. (Leviticus 26:3-5 – emphasis added)
The land was vast, and yet, seemingly desolate. A desert of sorts, the people knew that, unlike the Egyptians who had the fertile Nile to irrigate their crops, Israel was solely dependent on the rain season to be able to harvest bountiful crops.
When I visited Israel many years ago, I remember listening to the tour guide describing the abundance of its harvest. I had never tasted fresher fruit and vegetables before. Indeed, this tiny piece of land yields some of the most beautiful crops on earth.
I find it especially interesting that of all places on the planet, God would choose to place His chosen nation in a land that would completely depend on rain to produce successful harvests.
But then again, The Holy God of Israel knew the heart of His people.
Had he chosen Egypt as the Promised Land, the people would gladly depend on their own ability to channel the waters of the Nile into their crop beds. Rain would not have been a deal breaker every year, necessarily. However, the success of any given harvest season in Israel did not depend on its bounty rivers.
Its lush soil would have to completely depend on the rain seasons.
In fact, even as I write, farmers throughout Palestine anticipate the early rain which falls from about the middle of October until December, thus preparing the ground for receiving the seed, whereas that of the latter or vernal rain which is in the months of March and April, just before the harvest.
Likewise, throughout Scriptures, the prophets remind us of Israel's dependence on God for these showers which would bring forth the needed provision. Deuteronomy 11:14; Jeremiah 5:24; Joel 2:23; Hosea 6:3; James 5:7.
In each Scripture, God reminds us that He is the one who "causes the rain to fall."
In.Due.Season.
Part of Yahweh's Covenant is that He would be, forever, the Rain Giver.
But each year's bounty for Israel was dependent on three things:
Israel's faithfulness…
Yahweh's merciful rain…
And His perfect timing.
If He sent the rain one month earlier, the soil would not be ready. If one month later, the crops would not survive.
It's all about the right timing, which our limited vision will never comprehend.
"For My thoughts are not your thoughts,
Nor are your ways My ways," declares the Lord.
"For as the heavens are higher than the earth,
So are My ways higher than your ways
And My thoughts than your thoughts. (Isaiah 55:8-9 – NASB)
I don't know about you, but the longer I walk closely with the Lord, the more I see the same story repeated in my life.
There always seems to be a time of sowing… a time of waiting for the rain… and a time to watch it faithfully fall down from Heaven.
Sometimes it seems like that Rain will never come. We look at the skies, filled with clouds heavy with water and wonder… will it ever pour down on me?
And yet, it
always

does.

During that dreadful time of waiting, we certainly experience anxiety and fear. We question… and even rebel.

I have watched my crops dwindle… and hope faint within me.

There's only one thing that I have never, ever, EVER experienced:
Yahweh has never failed me yet.
Dear friend, you may be going through an anxious time right now, while waiting for the October rain to fall upon your needy, dry land.
It may be that you're hanging on to the "last grapes of your harvest." (v.5)
If that's you today, whether you are waiting on the healing to come… or for that prodigal son to come home…
Whether you are waiting on that job offer… or on that heartbreak to heal.
Whether you are in a season of waiting for the rain to fall down and lavish your land, and even if it seems as if God is about to be late.
I am here to tell you, from a life that's been tested and proven for over 20 years of walking with Jesus:
In Due Season…
In.Due.Season…
He WILL send the Rain.
Hold on, weary soul, hold on.
Wait patiently on His Grace to fall down.
Obey His voice and walk righteously before Him.
That's indeed your only task.
That's the seed you plant on the ground: Your abandoned worship and sacrificial obedience.
The rain is His and His alone to give.
So look up, raise your hands in worship, and shout to the clouds above you:
My God will never change.
He is forever Faithful…
and He's about to let the raindrops fall upon my barren land.
My God will never change. He will send raindrops upon my barren land.
Click To Tweet