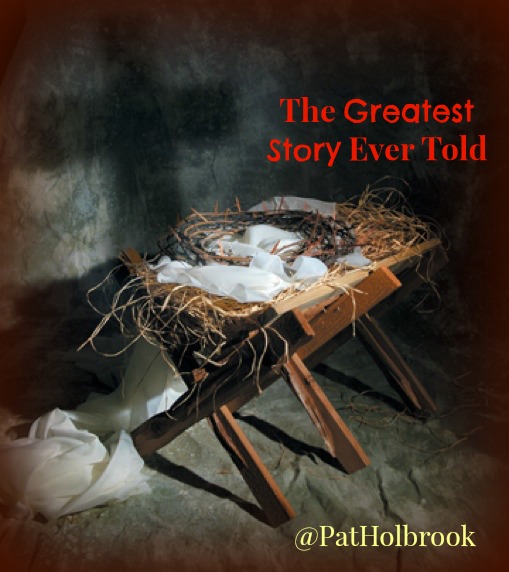 I love a good story.
It's true – I can be so enthralled by a good book or movie that, as my family says, 'a bomb could go off beside me and it wouldn't faze me'.
Well, I wouldn't go that far, but I have to admit it – if a story has all the right elements: love, suspense, trials and triumph, I can spend hours hypnotized by it. Therefore, it's no wonder that the story of Jesus' birth has captured my heart since long before I knew Him as my Lord and Savior. The long awaited Messiah, the mystery of His birth, a terrible enemy persecuting the helpless infant, the triumph of Heaven proclaimed by the angels as the Baby was born.
It's a beautiful story, indeed. And we hear it so many times during the holiday season.
It's a time when we, His people, rejoice as we read and repeat the story…
But also a time when those who hate Him intensify their persecution…
Every year, they vow to erase Him from public places… They shake their fists at the mention of Christmas. They sneer at the manger and close their ears to the Truth that came to set THEM free. The Baby infuriates them. So much so that they don't just choose to ignore Him in their lives. They want US, His people, to turn our faces away from the Miracle. They take us to the courts and fight to stop us from proclaiming His birth.
And they THINK they win.
Year after year, Happy Holidays overcomes Merry Christmas…
And we, His people, caught up in the busyness, unintentionally join the throng, filling our December days with 'things' and often forgetting THE Gift.
So today I invite you to pause for a minute and look past the manger… and to the cross of your redemption – the real reason we celebrate His birth.
Because Baby Jesus is persecuted, not because we believe He is SPECIAL. It's because we believe He is SAVIOR. The ONLY Savior.
He is persecuted because demons hate His birth.
They want mankind to remain blind to its meaning. They want us to stop proclaiming Satan's doom, sealed as the baby cried, foreshadowing the redemption He would bring forth when He breathed His last.
He is persecuted because choosing Him is choosing to die to self… it's choosing to die to sin and self-indulgence, and start living. Really living.
Because He IS the only WAY to TRUE life.
That Redemption would come down in the form of a Baby? That's undoubtedly the Greatest Story ever told.
That God would shrink His glory to dwell among us and make us His own? That's the most glorious event in the history of mankind.
It's a Truth too great for our limited minds to grasp… and yet, TRUTH indeed.
Not story, but history.
Our history.
Because for those of us who know the Baby in the manger as our resurrected Lord, we can testify: He changed our history. The world may shout as loud as it will: "It's a fairy tale! A story for the weak!"
Our hearts, however, flooded with a Love that dwells within, shouts back: "It's TRUTH! I've seen it. I've felt it. I KNOW!"
Oh, what a blessed assurance, that men and women through the ages have died to protect! That JESUS is Lord! That eternity is ours! That the Greatest Gift was freely given… to save a wretch like me. Like you.
So I invite you to stand up for the TRUTH that set us FREE, and join me in proclaiming today –
It's Merry Christmas! It's Merry Christmas!
The long-awaited Savior was born, died in my place, and still, He lives! My heart beats with His love. My soul soars with His grace… I'm forever raptured by the Story.
And I'll live to proclaim it!
Hey, World! The Savior is born!
Open your hearts to receive the Greatest Gift ever given!
Open your ears to hear The Greatest Story Ever Told!
PS: I 'stole' the name of this post from First Baptist Atlanta's Christmas Program "The Greatest Story Ever Told", which will be presented this coming weekend. If you live near Atlanta, you don't want to miss it! Click below to find out more about it and buy tickets.
Grateful to be featuring this post on these blogs: